Version 1
Server Veoh
Vote
(Total
1
Votes )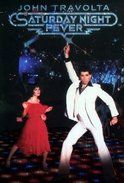 Movies:
Saturday Night Fever
Director:
John Badham
Cast:
John Travolta, Karen Lynn Gorney, Barry Miller
Production Co:
Robert Stigwood Organization (RSO)
Genres:
Drama, Music
Runtime:
118 min
Country:
USA
Release Date:
1977
Nineteen-year-old Brooklyn native Tony Manero lives for Saturday nights at the local disco, where he's king of the club, thanks to his stylish moves on the dance floor. But outside of the club, things don't look so rosy. At home, Tony fights constantly with his father and has to compete with his family's starry-eyed view of his older brother, a priest. Nor can he find satisfaction at his dead-end job at a paint store. However, things begin to change when he spies Stephanie in the disco and starts training with her for the club's dance competition. Stephanie dreams of the world beyond Brooklyn, and her plans to move to the big city just over the bridge soon change Tony's life forever...